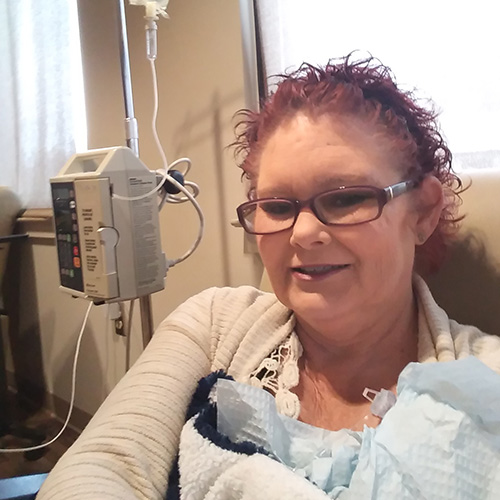 "If I must go through this, I wouldn't want to be any other place. I am here several times a week and have been for these four years. I love my doctor. He is a great listener and will spend the time that you need him to be there with you."
On September 16th 2015, Melissa's life took an irrevocable turn. At just 45 years old, she was diagnosed with Stage III Colorectal Cancer. Prior to her cancer diagnosis, she had worked as a Juvenile Probation Officer for the State of Georgia, an Alcohol and Drug Counselor at Scott State Prison, a Child and Family Guidance Counselor, and a Putnam County School Teacher. She applied for disability after her diagnosis due to the fatigue she would experience taking chemotherapy for seven days in a row with radiation treatments. Over the past five years she has been through nine various combinations of chemotherapy.
As a long-time patient, she has experienced many ups and downs but continues to find a way to see the up-side: "When you have cancer, you live scan to scan. September 2020 will be five years. I know how blessed that I am to still be here. Statistically, it is truly a miracle. If I remember correctly, only about 14% or rectal cancer patients live five years. I am so thankful to God and Dr. Vyas without whom I don't think I would be here." 
On a normal day you can find Melissa back in the chemotherapy suite or in the front lobby encouraging and conversing with other cancer patients. "When you go to the cancer center, you get to know the other patients and staff.  It is like a community." She mentions a few tips and tricks for chemo side effects on her blog like using kids toothpaste if you are experiencing mouth sores, steroid cream for skin issues, and to take rest when needed while you're on active treatment. She also mentions the importance of mental health while on your cancer journey: "Counseling is a wonderful thing. If that's not your thing, find a support group . No one understands like those who have been there or are there." 
When asked about Melissa Tanner, Amber Jenkins Support Group Leader and CPAN Chapter President stated "Melissa is the shining example of what patient community and patient advocacy looks like. It's giving advice to a patient who's recently been diagnosed, sharing what's helped you ease your side-effects, writing letters to your congressman about drug prices and insurance denials. Melissa does it all, she is our VIP Patient". 
Melissa is active in the CCMG cancer support group and the CCMG COA Patient Advocacy Network Chapter . Out of her own motivation, she was already writing her congressmen before CCMG's Chapter opened in 2018. She stated in her interview: "I always think that cancer is having a little party in my body while the insurance companies are dragging their feet".
Melissa faced some challenging issues getting her insurance to approve treatments that could have slowed disease progression. "We may be waiting for the insurance company to approve a medication that our doctor feels is the best treatment and then we are denied. All this time our cancer is pitching a party. Do we appeal or move on? Do these people know me who are saying no to a treatment that could save me? I don't think so." 
Melissa also encourages patients to take charge of their care; to be aware of your treatment options and what is going on. "Many patients don't even know what is going on in their bodies. They don't ask questions. I have to know everything. You have to be your own advocate." 
Melissa continues to encourage her CCMG Community in her own special way. Melissa has two beautiful daughters and a husband who have supported her through her cancer journey. She enjoys writing, hanging out with her chemotherapy nurses up at the cancer center, and spending time with her family. She has plans for a big, formal birthday party in October 2020 since September will be her five year mark fighting Colorectal Cancer . . .and she says she's ready to dance.