"Ring this bell,
Three times well.
It's toll to clearly say;
My Treatment is done!
This course is run!
And I am on my way!"
The Admiral's Bell
In 1996, a rear admiral in the U.S Navy diagnosed with Head and Neck cancer had finally finished his treatment. The soldier desired to follow the navy tradition of ringing a bell when the "job was done". He inscribed the words written above on a navy bell and donated it to a local Cancer Center. Over time, patients began to ring the bell for all cancer types and treatments. By ringing and donating the bell he began a tradition that continues on in cancer centers across America.
Have you heard the bell?
If you have received treatment in our chemotherapy suite you have most likely heard one of our patients ringing the bell proudly. We love to celebrate these victories with our patients and appreciate the opportunity to be a part of your new horizon. One of our patients, Andrea Cudd, donated the bell pictured in February 2014 with the same words as the admiral's bell to give cancer patients the opportunity to celebrate. We are thankful for her donation and the joy it has given to so many of our patients. Follow us on Facebook to see all of our bell ringers!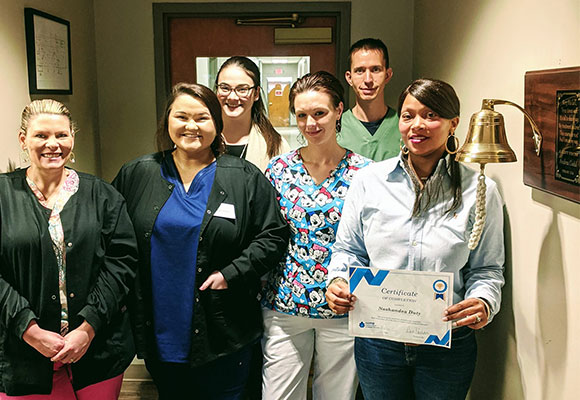 "Ringing the bell for me felt like a huge sigh of relief! A step closer to the finish line!"
Nashandea Duty was diagnosed with Breast Cancer in October of 2019. When asked about her cancer journey she said "Treatment meant everything to me because I needed it to be healthy again!" Nashandea's treatment plan required chemotherapy prior to surgery, so it was important for her to finish this first major hurdle to being healthy again. She struggled with some of the side effects of her chemotherapy treatment such as fatigue, diarrhea, and dehydration but was able to manage them with IV fluids, toast, crackers, and yummy applesauce.
Nashandea was very excited to ring the bell on her last treatment day. "Ringing that bell was very personal for me, to me it felt like a victory. . .I can exhale! I have conquered something that used to frighten me!" She shouted "Victory!" the day she was able to ring the bell three times! She also proudly stated that she had numerous support through her treatment, "I want to thank God, the head of my life. I want to thank CCMG's wonderful staff, my loving husband and children, Bishop Henry Channel, and Elect Lady Felicia Channel for always encouraging me! To my family and friends, thank you all for the support!"
Our mission is to deliver quality comprehensive hematology and oncology care in the community setting with comfort, compassion and privacy.